buy more than one kit and get 20% off! (Excludes items already on sale)

Background
My Own 2 Hands is a new movement to inspire people to start making beautiful, useful things with their hands. We believe that anyone can learn to make almost anything, and that for many people, making is the unknown missing link to long-term fulfilment and wellbeing.  Our platform offers a growing number of carefully curated video courses and kits, that let you learn a variety of genuine traditional crafts at home in your own time. Our courses take our students on a journey from absolute beginner to being able to make something they never imagined they could.   The hardest part of making is starting out, but once you start it has the power to change your life and you'll never look back. We take all the anxiety and confusion out of learning to make. 
All our projects are designed to be done at home with minimal or no tools. We'll teach you how to get set up and provide everything you need to get started. Start filling your home with things you've made yourself that will last forever. Use the web to learn and develop instead of waste time. Let the power of creativity back into your life.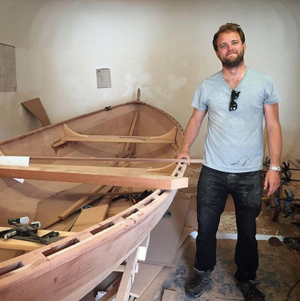 Our Founder
MYOWN2HANDS.CO was founded by BAFTA and EMMY-winning documentary director Patrick Wells. Patrick spent 10 years making films in the world's most hostile regions, covering wars in Libya, Syria, Yemen, Somalia and Iraq among others. In his mid 30s he discovered craft, and eventually built a boat in a garage, which he now sails. The experience changed his life and he soon decided to use his film knowledge to bring the joys of making to a wider audience.
Our Philosophy
For tens of thousands of years until the industrial revolution, humans made almost everything ourselves. We had a broad set of skills and could turn our hands to any task. Now we all specialise in one area, and everything we own is made by machines.  This is extremely convenient, but it's a rather narrow, unsustainable way of life and ultimately leaves us feeling slightly empty and unfulfilled. The enormous reward centre in our brain associated with making lies dormant. We all feel like we should be able to do something with our hands, it's part of being human, but most of us can't. We all know about the benefits of exercise, but making things is just as beneficial in a different and arguably deeper way. Every time we make something our minds improve, and we leave the process better and more capable than when we started. It builds confidence, self-reliance and even a sense of meaning and purpose that we can't get from anything else. Not only can making make you feel great, it can also be a key tool for weathering life's storms.