30 DAY MONEY BACK GUARANTEE
buy more than one kit and get 20% off! (Excludes items already on sale)
WE ARE NOW ABLE TO SHIP TO NORTHERN IRELAND!
About this course
In this free video class, renowned woodworker Will St. Clair will teach you how to carve a spatula safely, using FIVE key knife grips. These techniques will form an excellent grounding to help you get started in wood carving. This course is part of our larger premium course Woodland Woodcarving.
Here's a preview of what you'll learn to make:
What's included in this course?
This course has been specially produced by our team of BAFTA and EMMY-winning filmmakers.
You'll learn to: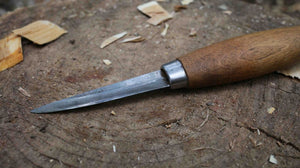 Title
Content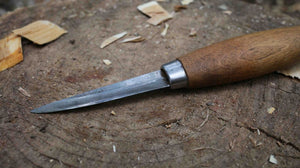 Title
Content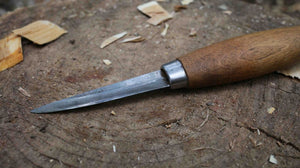 Title
Content
Meet your teacher
This course is taught by the marvellous Will St Clair. Will has spent years living at the Woodland Makers Workshop in Herefordshire where he teaches woodworking full time. The workshop is set in its own woodland and all the wood they use is harvested sustainably on site. As well as spoons and bowls, he also makes wonderful furniture.
Meet Will St Clair:
What our students are saying
"I have just started watching your free knife skills video. It is is lovely, I will be sharing the link with anyone who wants to start carving, it's so clear."
Becky F.
"The course was great, really lovely production standards which made it quite hypnotic to watch as well as informative."
Matthew B.
Who is this course for?
The course is perfect for anyone who wants to combine a love of the outdoors with a love of making stuff. You'll get better with yourhands and experience the sense of wellbeing and satisfaction that comes with it. You'll also learn to carve variety useful spoons and utensils. You don't need any prior experience to do this course but you will need to concentrate and work carefully.
What do you need?
To do the course you will need a wood carving knife. They are affordable tools that will last a lifetime. 
CLICK HERE to buy one (over 18s only)
Pricing
How to Carve with a Straight Knife (Course Only) – Free
Course FAQs
When does the course start?
+-
The course is online and you can access it at your own pace whenever you like.
How do I watch the course?
+-
You can watch the course online through any browser. If you're on your mobile or tablet you can also watch it via our app, which is called Teachable.
How long do I have access for?
+-
When you buy one of our courses you get lifetime access from any device you own!
Can I take the course if I live outside the UK?
+-
Yes! Our courses are available globally.
What if I'm unhappy with the course?
+-
We would never want you to be unhappy! If you are unsatisfied with your purchase in any way, contact us in the first 14 days and we will give you a full refund.
Are materials and tools included?
+-
No, but all of our courses are designed to be done with affordable tools, many of which you'll already have knocking around in your shed. Our courses come with extensive course notes which will show you how to get everything you need with a couple of clicks.
Give this course as a gift
In order to gift one of our courses, simply buy the course yourself, then email us at hello@myown2hands.co to let us know the purchase is a gift. We'll send you a unique coupon code and access instructions that you can send on to your loved one.