buy more than one kit and get 20% off! (Excludes items already on sale)
The Blacksmith's Knife (Course Only)

The definitive guide to forging steel into beautiful knives in your own back yard.

ORDER NOW
About this course
In this exclusive online course, internationally acclaimed bladesmith and TV personality Owen Bush helps you get started forging knives in your own home. Through his step-by-step video classes, you will learn how to set up a small forge and make a blacksmith's knife using only hand tools. The blade and the handle are both made from one piece of steel so you will learn a wide variety of forging techniques. This introductory course does not require any prior experience, just a bit of will-power. It will equip you with the techniques, skills and confidence to finally start heating up metal and shaping it with a hammer.
Here's a preview of what you'll learn:
What's included in this course?
Set up a basic forge
Learn how to safely set up a basic forge and small anvil in your back yard.
Get the right tools
You won't need many tools and some you will already have. Owen will show you the best affordable setup.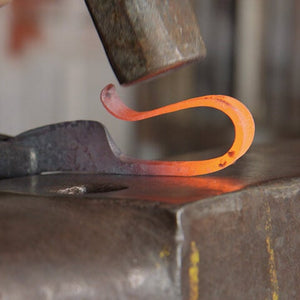 Forge the blade and handle
Learn to forge the variety of complex shapes that make up this piece, including the curved blade and scrolled, ergonomic handle.
Shape the bevels
After forging the blade, you'll learn to grind the bevels using hand tools.
Heat treat the knife
Learn how to normalise, quench and temper the blade to give it the perfect combination of hardness and toughness. This means it will hold an edge but won't be brittle.
Sharpen the blade
Learn how to put a perfect, razor-sharp edge on the blade.
Meet your teacher
Owen has been one of the world's leading bladesmiths for nearly a quarter of a century. His passion for the craft is deeply rooted in his fascination for the human condition and our need to make things with our hands. He's particularly interested in the blades of the Viking and Saxon era and much of his work consists of making museum quality Viking and Saxon swords seaxes, axes and knives - www.owenbush.co.uk
Meet Owen Bush:
What our students are saying
Who is this course for?
Use this text area to share information about your brand with your customers. Describe a product, share announcements, or welcome customers to your store.
What do you need?
Use this text area to share information about your brand with your customers. Describe a product, share announcements, or welcome customers to your store.
Pricing
The Blacksmith Knife Course – £57
Course FAQs
When does the course start?
+-
The course is online and you can access it at your own pace whenever you like.
How do I watch the course?
+-
You can watch the course online through any browser. If you're on your mobile or tablet you can also watch it via our app, which is called Teachable.
How long do I have access for?
+-
When you buy one of our courses you get lifetime access from any device you own!
Can I take the course if I live outside the UK?
+-
Yes! Our courses are available globally.
What if I'm unhappy with the course?
+-
We would never want you to be unhappy! If you are unsatisfied with your purchase in any way, contact us in the first 14 days and we will give you a full refund.
Are materials and tools included?
+-
No, but all of our courses are designed to be done with affordable tools, many of which you'll already have knocking around in your shed. Our courses come with extensive course notes which will show you how to get everything you need with a couple of clicks.
Give this course as a gift
In order to gift one of our courses, simply buy the course yourself, then email us at hello@myown2hands.co to let us know the purchase is a gift. We'll send you a unique coupon code and access instructions that you can send on to your loved one.